Drums of Autumn
Book information
Author
Publication date(s)

December 30, 1996

Published by

Delacorte Press

Chronology
Preceded by
Followed by

Chapter Guide
Drums of Autumn is the fourth novel in the Outlander series by Diana Gabaldon. The novel takes place in the colony of North Carolina from 1767 to 1770, as well as in Inverness and Boston from 1969 to 1971.
Plot Summary
Edit
Claire Fraser, reunited with her husband Jamie, face a new life in the American colonies after being shipwrecked on the Georgia coastline. Meanwhile Brianna Randall, safely ensconced in the 20th century and now essentially orphaned by her mother's departure to the past, struggles to accept her loss and satisfy her curiosity about a father she has never met, only to discover a tragic piece of "history" that threatens her parents' happiness in the 18th century. This discovery sends Brianna back through time on a mission to save her parents, and Roger Wakefield, the young Oxford historian captivated both by Claire's impossible story and Brianna's engaging presence, feels compelled to go after her through the stones.
Timeline of Significant Events
Edit
1767, June

Claire, Jamie, Ian, Fergus and Duncan arrive in Charleston, South Carolina, to witness the hanging of Gavin Hayes
Ian acquires a half-wolf companion and names him Rollo
The escaped prisoner Stephen Bonnet asks the Frasers' help in escaping Charleston
The group travels overland to Wilmington, where Jamie and Claire dine with Governor Tryon in hopes of finding a buyer for one of their gemstones, and they leave with a different kind of offer from the governor
Claire meets John Quincy Myers and Phillip Wylie
The group is set upon by pirates, including their erstwhile companion Stephen Bonnet, on the Cape Fear while en route to Jamie's Aunt Jocasta's plantation, River Run; the pirates make off with the rest of the gemstones and Claire's gold wedding band
Arrival at River Run
1767, July

An accident at the sawmill summons Jamie and Claire to assist
Jocasta holds a dinner party in honor of Jamie &co's arrival; in attendance are Phillip Wylie, Hermon Husband, James Hunter, and, abruptly, John Quincy Myers
Claire and Jamie find a woman at the mill, left to bleed to death from a botched abortion
Jamie questions Sergeant Murchison, a former guard of Ardsmuir Prison
1767, August

Claire and Jamie travel with Ian and Myers to help the slave, Pollyanne, escape to the Indians
Jamie battles a bear while camping with Claire, eventually killing it, after which three Indians come upon them
Jamie shows Claire the land they will settle upon, noting the strawberries that grow there and the plant's connection to the Fraser family name
1767, September

Work on establishing shelter and winter provisions begins on the Ridge
Myers and Duncan Innes arrive with more provisions, and join in blessing the hearth of the new cabin
Jamie bids Duncan find as many Ardsmuir men as he can, and invite them to settle on the Ridge
1767, October

Nacognaweto brings his grandmother, Nayawenne, along with his wife Gabrielle and her daughter Berthe, to meet the Frasers
1767, December

Claire ventures out into the snow to find Jamie, who has put his back out while hunting
1768, spring

Duncan returns to Fraser's Ridge with 8 of Jamie's Ardsmuir men and their families
Claire's abilities as a healer become well-known, and she begins traveling alone on her house calls
1768, August

Claire leaves the Mueller homestead in the midst of a severe storm, loses her horse, finds a human skull, and meets the ghost of an Indian
1768, October

While Claire tends to Ian and John, who have the measles, Jamie takes William on a trip to the Indian village Anna Ooka
A distressed Herr Mueller arrives at the cabin in company with a pastor, with news that the measles has taken the lives of his daughter and new grandchild, and his intention to seek vengeance on the Indians, whom he blames for the tragedy
Jamie finds Anna Ooka decimated by illness
1769, July

Jul 4: Brianna and her new handmaiden, Lizzie, sail aboard the Phillip Alonzo from Inverness, bound for Charleston, South Carolina.
1769, July/August

Roger meets his ancestor, Morag MacKenzie, and helps protect her son, Jeremiah
1769, September

Brianna worries over Lizzie's recurring attacks of fever
On 2 September, Roger finds Brianna in Wilmington; they become hand-fasted and consummate their marriage; Brianna leaves him after finding out he knew about the notice about her parents' deaths, feeling angry and betrayed
After seeing Brianna first disturbed by Roger's appearance and later upset after being gone all night, Lizzie mistakenly assumes that 'MacKenzie' (Roger) forced himself on Brianna
Brianna is raped by Stephen Bonnet in her quest for getting her mother's gold ring back
Brianna finds Jamie and together they return to the Ridge
Jamie takes Brianna hunting
1769, October

Brianna realizes she is pregnant, and tells Claire that she believes Bonnet is the father; at Brianna's request, Claire agrees not to tell Jamie about Bonnet
Lizzie tells Jamie and Ian that a man named MacKenzie, who she mistakenly believes assaulted Brianna in Wilmington, is making his way up the mountain
Jamie goes with Ian to meet 'MacKenzie' (Roger) and they beat him to a pulp, then pass him off to an Indian they know, thence to be sold to the Iroquois
Roger tries to escape his Indian captors and discovers another stone circle in the midst of a rhododendron hell
1769, November

Claire contemplates how she might help Brianna end her pregnancy, should Brianna wish it
Brianna sketches a portrait of Roger, and Jamie and Ian realize 'MacKenzie' is, in fact, the Roger Wakefield they've been putting out word for; Brianna reveals that Bonnet is the one who raped her
1769, December

The Frasers come down the mountain to River Run, where Brianna is settled to wait until her parents and Ian return
1770, January

Claire, Jamie and Ian leave to travel north in their search for Roger
The rescue party arrives at the Tuscarora village of Tennago
1770, February

Brianna busies herself at River Run, worried about Roger and her parents, and fending off the suitors Jocasta tries to put to her
Roger makes the best of his situation with the Mohawk
Jamie and Claire arrive at Snaketown, the Mohawk village where they believe Roger to be
1770, March

Lord John Grey arrives as a guest at River Run, with news about his own search for the whereabouts of Roger Wakefield
After discovering that Lord John is gay, Brianna tries to blackmail him into marrying her
Roger befriends a Jesuit priest called Alexandre Ferigault, also being held prisoner by the Mohawk
1770, April

Brianna, accompanied by Lord John, seeks one last meeting with Stephen Bonnet before he is sentenced to hang
Father Alexandre is executed, and his lover commits suicide; in the mayhem following, an Indian man is killed
Ian offers himself to the Mohawk in Roger's place, and he is adopted into the tribe
1770, May

Claire and Jamie return to River Run, without Roger or Ian
In the middle of the month, Brianna gives birth to a son
1770, August

Roger finally arrives at the Ridge, vowing to take Brianna's child as his own, regardless of its paternity
1770, October

The Frasers and MacKenzies attend the Gathering at Mount Helicon
1969, June: Brianna receives a call from Roger in the middle of the night, asking if it would be all right if he came to see her
1969, July: Roger takes Brianna to a Scottish Gathering in New England where he sings a set of Scottish songs
1969, December: Brianna spends the holidays with Roger in Scotland
1970, September: Roger finds the notice about Jamie and Claire perishing in a house fire in 1776
1971, March: Roger receives a new letter from Brianna, and doubts her feelings for him
1971, April: Roger agrees to attend a conference after receiving word from Brianna that her summer plans have changed
1971, May

On Beltane, Brianna goes through the stones to 1769
Too late, Roger discovers what Brianna has done

1971, June: On Midsummer's Day, Roger goes through the stones to 1769
Book Covers
Edit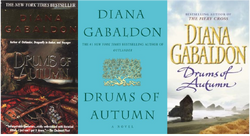 Resources
Edit
Point of view guide – A chapter-by-chapter breakdown of character points of view. Includes dates for chapters when noted.