Drums of Autumn is the fourth novel in the Outlander series by Diana Gabaldon. The novel takes place in the colony of North Carolina from 1767 to 1770, as well as in Inverness and Boston from 1969 to 1971.
Plot Summary
Edit
Claire Fraser, reunited with her husband Jamie, face a new life in the American colonies after being shipwrecked on the Georgia coastline. Meanwhile Brianna Randall, safely ensconced in the 20th century and now essentially orphaned by her mother's departure to the past, struggles to accept her loss and satisfy her curiosity about a father she has never met, only to discover a tragic piece of "history" that threatens her parents' happiness in the 18th century. This discovery sends Brianna back through time on a mission to save her parents, and Roger Wakefield, the young Oxford historian captivated both by Claire's impossible story and Brianna's engaging presence, feels compelled to go after her through the stones.
Timeline of Significant Events
Edit
June: Brianna receives a call from Roger in the middle of the night, asking if it would be all right if he came to see her
July 19-20: Roger takes Brianna to a Celtic festival in New England where he sings a set of Scottish songs. The next day, they watch the first moon walk at Joe Abernathy's.
December: Brianna spends the holidays with Roger in Scotland
September: Roger finds the notice about Jamie and Claire perishing in a house fire in 1776
March: Roger receives a new letter from Brianna, and doubts her feelings for him
April: Roger agrees to attend a conference after receiving word from Brianna that her summer plans have changed
May

On Beltane, Brianna goes through the stones to 1769
Too late, Roger discovers what Brianna has done

June: On Midsummer's Day, Roger goes through the stones to 1769
Book Covers
Edit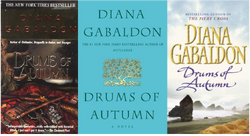 External Resources
Edit
Point of view guide – A chapter-by-chapter breakdown of character points of view. Includes dates for chapters when noted.
References
Edit
Ad blocker interference detected!
Wikia is a free-to-use site that makes money from advertising. We have a modified experience for viewers using ad blockers

Wikia is not accessible if you've made further modifications. Remove the custom ad blocker rule(s) and the page will load as expected.