The Scottish Prisoner
Book information
Author
Publication date(s)

November 29, 2011

Published by

Delacorte Press

Chronology
Preceded by
Followed by

Chapter Guide
The Scottish Prisoner (previous working title: Lord John and the Scottish Prisoner) is the third novel in the Lord John Series by Diana Gabaldon, published in 2011. Set in 1760, this is a two-person book, alternating between Jamie Fraser's point of view and that of Lord John Grey.
The Wild Hunt
Edit
A mysterious Irish poem brings Jamie to England where he is to help solve its mystery.  A delicious adventure ensues and brings Jamie and Lord John into harm's way.
Characters
Edit
Book Covers
Edit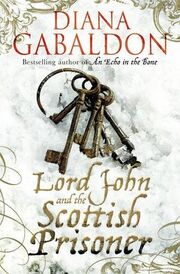 External Links
Edit