Outlander: Season One, Volume Two is the second of a two-part release of Season One of the Outlander television series on home video. It was released on DVD and Blu-ray on September 29, 2015.
Outlander spans the genres of romance, science fiction, history and adventure as it follows Claire Randall, a married WWII combat nurse who mistakenly falls back in time to 1743. As the season continues, Claire and Jamie's relationship is tested and Claire must reconcile her modern mindset with this 18th century world. Ruthless redcoats, volatile clan politics and a brutal witch trial force Jamie and Claire to escape to a new home. Just when their life as a married couple begins to take shape, Jamie is once again drawn into Captain Randall's darkness. Ultimately, Claire discovers there is a fate worse than death as she struggles to save Jamie's heart, as well as his soul.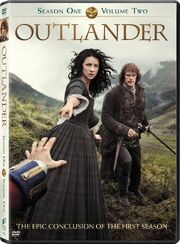 Blu-ray (Collector's Edition)
Edit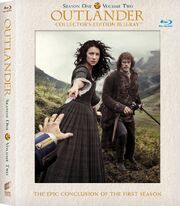 References
Edit
Ad blocker interference detected!
Wikia is a free-to-use site that makes money from advertising. We have a modified experience for viewers using ad blockers

Wikia is not accessible if you've made further modifications. Remove the custom ad blocker rule(s) and the page will load as expected.