The Exile (An Outlander Graphic Novel)
Comments

0
60pages on
this wiki
The Exile (An Outlander Graphic Novel)

Author

Artist

Hoang Nguyen

Language

English

Genre(s)

Graphic Novel

Publisher

Delacorte Press

Publication

September 21, 2010

Pages

No information
The Exile (An Outlander Graphic Novel) i
s the first graphic novel based on the Outlander series of novels by
Diana Gabaldon
, a New York Times best-selling author. The script was written by Diana Gabaldon. The artwork was created by artist Hoang Nguyen. The Outlander series is categorized as mainstream fiction, but may be categorized as multiple genres including historical fiction, science fiction (due to time travel in story lines), romance and fantasy.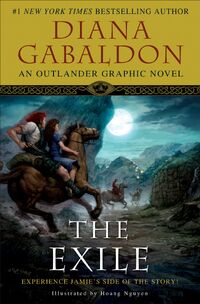 Main Characters
Edit
This graphic novel features characters from Outlander, Gabaldon's first novel, including:
Claire Beauchamp Randall: a 20th century Englishwoman. After an encounter with a stone circle, she finds herself transported through time to the Scottish Highlands in the mid-18th century.
James Alexander Malcolm MacKenzie Fraser: A young Scot from the mid-18th century, also known as "Jamie".
Murtagh Fitzgibbons Fraser: A loyal member of the Clan MacKenzie/Fraser. He has sworn to protect Jamie since he was an infant.
A New ApproachEdit
The Exile is loosely based on Outlander/Cross Stitch the first novel in Diana Gabaldon 's best-selling series of currently seven novels. Gabaldon say that readers familiar with Outlander "will recognize many of the major events of the story, but there's a completely new story line woven through and around them. The story is told largely from Murtagh's point of view, and he, of course, saw and knew many things that Claire didn't".
Extracts from the Novel
Edit