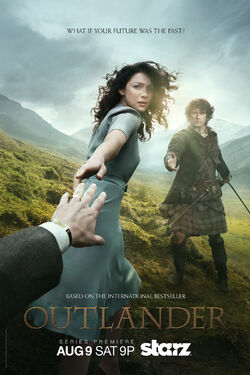 Interesting stuff, Outlander fans! According to The Hollywood Reporter, Starz plans on splitting Season One of Outlander right down the middle. The first eight episodes of the 16-episode freshman season will air when it begins Aug. 9, at 9 p.m. ET/PT, and then will go through to Sept. 27, 2014. Starz is then planning on holding the remaining eight episodes for an early 2015 launch!
Starz will also offer an early preview of the first episode, "Sassenach," one week ahead of the official premiere on Aug. 2, at 9 p.m. ET/PT. The episode will also be available on select cable, satellite and telco affiliates in the U.S., and will be online via specific websites, including the Outlander site, Facebook page and Twitter account, as well as Starz's YouTube channel and the Starz Play app.
What do you think of this decision? It might be interesting to have a little break in order to digest the first half of the season, and, if this adaptation is any good, it will keep fans interested in seeing more, I guess!
Source: Hollywood Reporter
---
---
Ad blocker interference detected!
Wikia is a free-to-use site that makes money from advertising. We have a modified experience for viewers using ad blockers

Wikia is not accessible if you've made further modifications. Remove the custom ad blocker rule(s) and the page will load as expected.