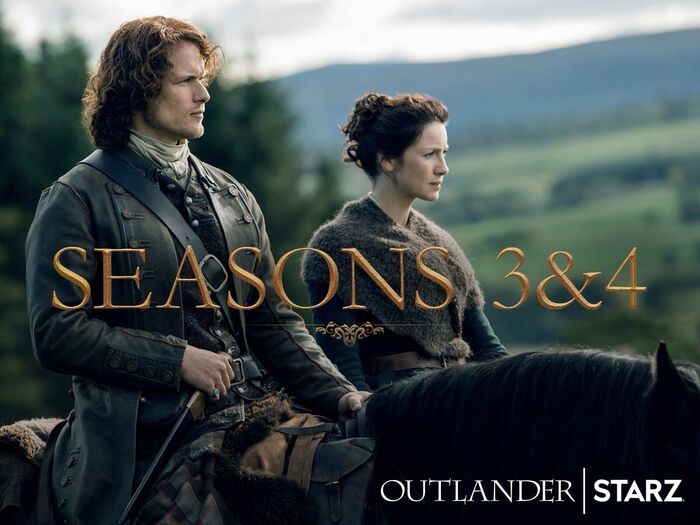 Starz Chief Executive Officer Chris Albrecht announced today the network has ordered two more seasons of Outlander, the critically-acclaimed original series executive produced by Ronald D. Moore and adapted from Diana Gabaldon's international bestselling books. Once again partnering with Sony Pictures Television, this is the first multi-book pickup for Outlander, assuring the series will run for several more years. The highly-anticipated second installment of the series premiered on STARZ in April 2016.
Season Three will be based on the third of the eight books in the Outlander series, entitled Voyager, followed by Season Four based on the fourth book in the series, Drums of Autumn.
This is exciting news! Though there is no confirmation yet as to how many episodes each season will pick up, we can maybe guess that it will be fewer than 16 (which the production still talks about as very rough for the principle actors, i.e. Caitriona, who had to be in nearly every frame of every episode during Season One), and at least 10 (because anything less would be madness). Considering how each book gets longer and more complex than the last, how many episodes do the new seasons deserve/require, in order to do the story justice?
Just as a thought experiment, I decided to break down each of the next two books into 13-episode seasons – 13 because that's what we got for Season Two.
WARNING: The following contains spoilers from Voyager and Drums of Autumn, and potentially future seasons of the show. Also note that these are merely speculative musings about future episodes, and NOT based in actual knowledge of said episodes. Click "Expand" to read.
Episode 1: Jamie wakens on Culloden battefield, Lord Melton refuses to shoot him, and he gets carted off home to Lallybroch. Meanwhile (and this depends on where Season Two leaves off with the 1968 plotline), Claire, Roger and Bree search for Jamie in the historical record.
Episode 2: Jamie lives as the "Dunbonnet" near Lallybroch; after he is nearly caught by the redcoats while holding his newborn nephew, he decides to turn himself in. The hunt in 1968 continues (?)
Episode 3: Lord John Grey arrives as the new governor of Ardsmuir Prison, and he develops an odd half-friendship with one of the inmates in his charge – the notorious Red Jamie, who incidentally spared Grey's life before the Battle of Prestonpans. Chess, literature, and unwanted advances ensue, as well as talk of a certain mythical treasure. The hunt in 1968 continues (?)
Episode 4: Jamie is given his parole to serve on the Helwater estate; Lady Geneva Dunsany sets Jamie in her sights, with devastating consequences. The hunt in 1968 continues (?)
Episode 5: Having tracked Jamie to a printshop in Edinburgh of 1766, Claire makes the heart-wrenching decision to follow Jamie back into the past, and leave behind her daughter. Jamie is shocked by Claire's reappearance, but their reunion goes better than Claire could have hoped.
Episode 6: Claire quickly gets wrapped up into the complexities of Jamie's life as a printer, smuggler, and put-upon uncle: we meet Young Ian, Yi Tien Cho a.k.a. Mr. Willoughby, Madame Jeanne, and a slew of Jamie's confederates. Rumors abound of a serial murderer of women, and Claire evaluates a minister's unstable sister. After a rendezvous on the coast goes horribly awry, the group returns to Lallybroch.
Episode 7: While still becoming re-acquainted with Jamie after their twenty-year absence, Claire's fragile hope for the future shatters when she learns that Jamie has married not just someone else, but a certain someone from Claire's past. After an unfortunate series of events – someone gets shot and nearly dies, nothing major – Claire and Jamie talk it out, and resolve the matter with the help Ned Gowan the lawyer. With new fiscal responsibilities toward the injured parties, Jamie decides that they must retrieve more treasure from the silkies' isle. Jamie and Claire take Young Ian to swim to the isle, but their mission is cut abruptly short when Ian is kidnapped by pirates.
Episode 8: After discovering as much as they can about the ship that took Young Ian, Jamie and Claire embark posthaste to the West Indies in pursuit. Fergus sneaks his new bride aboard, against Jamie's wishes and better judgment. Both couples struggle with the rules Jamie sets down, and Mr. Willoughby shares the interesting tale of how he came to be in Edinburgh.
Episode 9: The Frasers suspect one of Jamie's men of betraying him to the Crown as a smuggler. During the voyage, the ship is boarded by the British Navy, demanding assistance with an outbreak of illness. Claire goes aboard to help, but becomes separated from Jamie when the larger ship lifts anchor and continues toward Jamaica.
Episode 10: Claire does what she can to help the British crew, but eventually escapes and swims ashore to Hispaniola, where she meets a naturalist named Lawrence Stern and a defrocked priest. When she hears news of Jamie's ship running aground, she finds the crew on the beach and reunites with Jamie. Fergus and Marsali are married.
Episode 11: After Jamie hears the name of the new governor of Jamaica, he determines that they must attend the governor's reception. He and Claire hear rumors of a woman plantation owner on Jamaica, who has been associated with the ship that took Ian. The night is cut short when a woman is brutally murdered, and Claire learns more about Jamie's past from the governor himself.
Episode 12: The Frasers, under suspicion after the murder, escape the governor's mansion and make their way to Rose Hall Manor, and they are shocked to find that they have met Mrs. Abernathy before. That night, while investigating the grounds under cover of darkness, Jamie and Claire find themselves in the midst of a mass exodus of slaves from the plantation.
Episode 13: Jamie and Claire pursue Mrs. Abernathy and Young Ian to Abandawe, a mystical cave feared by those that know its power. After a harrowing experience, they rescue Young Ian and head back to the sea, hoping to arrange their trip back to Scotland. However, they find themselves once again pursued by the British Navy, and get caught in a deadly hurricane. They wash ashore, not sure of where they are or what enemies might await them there.
Episode 1: Jamie, Claire, Young Ian, Fergus and Duncan Innes, one of Jamie's Ardsmuir men, arrive in Wilmington to witness the hanging of a fellow former prison inmate. While trying to properly dispose of the deceased, an escaped convict seeks their help to leave town without detection. Jamie also meets the governor of North Carolina, who makes him an enticing offer, and Young Ian acquires a furry companion.
Episode 2: Roger takes Brianna to a Celtic festival in New England, where she feels conflicted about her loyalty to the father who raised her, and the one she's never met. Meanwhile, as the Frasers make their way inland to River Run plantation, Jamie's earlier benevolence proves unwise when Stephen Bonnet robs them on their riverboat.
Episode 3: The Frasers arrive at River Run and meet Jocasta Cameron, Jamie's maternal aunt, whose air of command and sensory acuity belie her blindness. Claire and Jamie consider what they would have to take on if Jamie agreed to be Jocasta's heir.
Episode 4: Bree spends Christmas with Roger in Scotland, and they reach an impasse in their relationship; Jamie and Claire travel into the mountains, killing bears and meeting Indians along the way.
Episode 5: Claire and Jamie begin to build a homestead with the help of Young Ian.
Episode 6: Lord John arrives at Fraser's Ridge unexpectedly with his stepson, William, in tow. An outbreak of measles claims lives on the Ridge and nearby Indian villages. Roger finds the death notice in a Wilmington newspaper from 1776.
Episode 7: Life on the Ridge is never dull: Claire rescues Jamie during a snow storm, and meets an Indian ghost during a storm. Roger finds out that Brianna has disappeared into the past.
Episode 8: Brianna arrives at Lallybroch, and seeks passage to North Carolina. Roger, several weeks behind Brianna, goes through the stones himself and books passage under Captain Stephen Bonnet.
Episode 9: Roger survives a harrowing voyage and seeks out Brianna in Wilmington. They reunite and become handfast, consummating their marriage. When Brianna finds out that Roger withheld the death notice from her, she leaves him angrily. Brianna pays a steep price to recover her mother's gold wedding band, and travels to Cross Creek to find Jamie Fraser.
Episode 10: Claire and Jamie's joy at having their daughter with them is overshadowed by the knowledge that Brianna was raped, and is with child; Brianna tells Claire about Stephen Bonnet, but swears her to secrecy. When Roger finally makes his way up the mountain and Jamie learns of the approach of a stranger, wrongful assumptions are made, and Jamie and Young Ian take vengeance on behalf of Brianna's honor. Brianna, becoming worried by Roger's absence, sketches a drawing of him, and the truth comes out.
Episode 11: Jamie, Claire, and Young Ian leave Brianna at River Run while they travel north to find Roger; Brianna meets Lord John, and makes an indecent proposal to him.
Episode 12: Claire and Jamie arrive at the village where they are sure Roger was taken, but a rift in the village prevents their finding him right away. They eventually do, but at the cost of leaving Young Ian behind. Brianna learns of Stephen Bonnet's impending execution, and wishes to speak to him before he dies.
Episode 13: Upon Jamie and Claire's return, without either Ian or Roger, Brianna gives birth to a healthy baby boy, who resembles no one so much as his mother and paternal granfather, and neither of his putative fathers. Back on the Ridge, Roger returns and pledges himself to Brianna's son, taking the boy as his own, no matter his true parentage.
So, what do y'all think? Were you expecting a two-in-one announcement? Is 13 enough for a huge book like DRUMS? Do you think production will have to leave things out, or leave them for Seasons 4, 5, 6...?! Share your thoughts in the comments!
Ad blocker interference detected!
Wikia is a free-to-use site that makes money from advertising. We have a modified experience for viewers using ad blockers

Wikia is not accessible if you've made further modifications. Remove the custom ad blocker rule(s) and the page will load as expected.